New opportunities for cooperation between Palacký University Olomouc and the Florida Institute of Technology (Florida Tech) in the United States have arisen from the meetings that Rector Martin Procházka attended during his trip overseas.
The Memorandum, signed together with his counterpart John Nicklow, President of Florida Tech, opens up further opportunities for participation in scientific research projects and joint grants, as well as facilitates the organisation of internships and summer schools for students of both universities.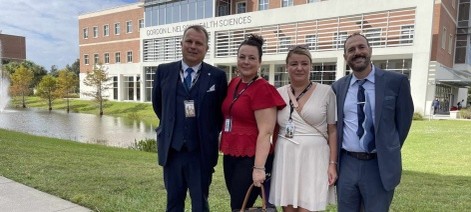 "Florida Tech is not only involved in the development of the latest technologies in aerospace engineering, engine design, and advanced materials, but also conducts science and research in fields such as chemistry, physics, biology, and biomedicine, placing great emphasis on technology transfer. The collaboration opens up new opportunities for us, I'm sure we can learn a lot from our partners," said Rector Procházka, who together with Vice-Rector for Science and Research Lucie Plíhalová and Vice-Rector for Internationalisation Jiří Stavovčík, toured the new state-of-the-art Gordon L. Nelson Research Centre for Health Sciences, which includes modern teaching laboratories where students are taught by means of augmented and virtual reality tools and advanced computer simulations.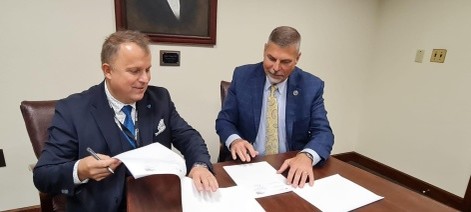 The collaboration between the two universities has been occurring on a scientific basis for several years, and Florida Tech chemistry and chemical engineering professor Nasri Nesnas confirmed its benefits. "It was an immense pleasure to welcome the UP Rector and Vice Rectors to our campus and to discuss many important topics that we want to focus on in the future," said Nesnas, adding that the mutual cooperation so far has focused on research internships for PhD students and researchers, which have resulted in joint publishing activities. A joint bilateral grant is currently being prepared.