Palacký University gave a presentation on the university town and region's beauties, its exchange programmes for students and academics, cooperation with American partners, and much more at the Czech Center in New York City. The university also celebrated its 450th jubilee at the Czech National Home, also in Manhattan.
Representatives of UP, the City of Olomouc, and the Olomouc Region welcomed visitors interested in what the Olomouc region has to offer in the way of higher education and tourism in the historic Art Nouveau spaces of the Czech Center in NYC to the Open Door Day. The ceremonial gala evening featured a piano recital by David Kalhous and was attended by roughly one hundred guests from the USA and the Czech Republic.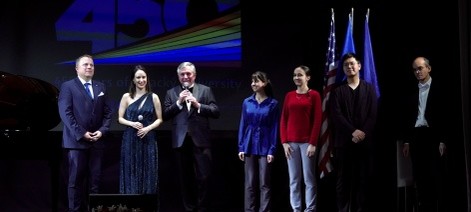 "We presented our university in the context of traditional European universities which not only build upon their rich histories, but also have something to offer contemporary society in the way of education, research, and innovation for the years to come. Opportunities to take part in international study and work stays for our students and academics and for cooperation with international partners in Olomouc are an important prerequisite for us to achieve outstanding results. This is why developing partnerships with universities throughout Europe and also across the ocean is so important for us," remarked UP Rector Martin Procházka, who met with successful UP alumni, representatives of partner universities, university benefactors, and Czech diplomats during the course of the ceremonial event at the Czech Center in NYC.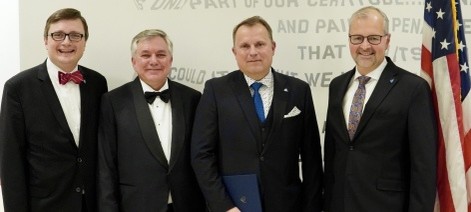 Part of the gala evening in NYC's Czech National Home was to commemorate the late UP Rector Emeritus Prof Josef Jařab, the famous American Studies scholar, who helped develop cooperation between the University of Olomouc and American partners after the Velvet Revolution.