Not only the Covid-19 epidemic but also the recent natural disaster in South Moravia, devastated by a tornado, remind us how important is the work of volunteers – and how many such people who dedicate their time and energy to helping others are among the students and employees of Palacký University Olomouc. For some of them, volunteering is one of the meanings of life. This is the case of Marie Hanušová from the Sts Cyril and Methodius Faculty of Theology (UP CMFT).
Last year, the student of Charity and Social Work and vice-chairperson of the UP CMFT Academic Senate received the Rector's Award for her volunteer work. When her nomination arrived at the UP Volunteering Centre at that time, it said that without her help, Opava Charity would not have been able to provide the necessary care to people who depended on it during the first wave of the epidemic. "I was so surprised. I don't think my help was significantly greater in any way than anyone else's. I was very pleased nonetheless," said Hanušová.
As part of the home care service, she helped seniors with everyday situations they could no longer cope with on their own. She prepared their meals, helped them with dressing, hygiene, and cleaning, and did shopping for them. "Most of all, it was mentally challenging. Not that the clients were unpleasant, not at all. But in my daily contact with them, I was aware of how alone they were and how their loneliness had deepened considerably during the quarantine. In addition, I took care of several seniors I had known since I was a kid, and it was heart-breaking to see them so weak and infirm."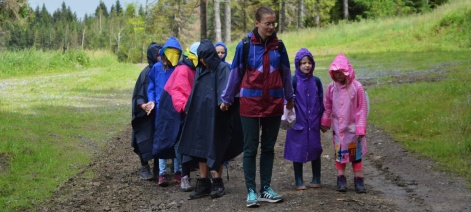 Marie Hanušová, whom you can also meet at the UPoint information centre, has volunteering in her blood. Thanks to her parents, who have been actively engaged in Opava Charity, she has been helping others since childhood. As a child, for example, she helped clients in a home for the visually impaired to find things; later she helped out in a sheltered housing for people with mental illnesses, in a retirement home, and also helped organise a church fundraiser. Nowadays, she organises various events for children in her local parish, such as masquerade balls, camps, and trips, and she has also been active in scouting for about a dozen years.
"I have certainly more motivations for volunteering. One of them is the fact that I have two healthy arms and two healthy legs that can serve someone who is not so lucky. I often think about why I am on this planet and why I am here right now. Volunteering adds meaning and depth to my existence. I think it's beautiful when someone can help a stranger just like that, selflessly. The word society – in Latin societas – is derived from from socius, which means a companion, a friend. If we want our society to be healthy, we need to be friends. And seeing the smiles of the people we have helped is just the icing on the cake," said Hanušová, who is already thinking about what she will do after completing her Bachelor's degree. On one hand, she would like to get a real job soon, but on the other hand, she would miss student life and the faculty very soon. However, she has still some time before making her decision.
There is still time to submit nominations for this year's Rector's Awards for UP Student and Staff Volunteers, which will be presented at the beginning of the new academic year. The UP Volunteering Centre is accepting nominations via this form until August 20. A candidate may be nominated for the award by the organisation the UP student or employee has volunteered for in the past academic year as well as by the UP Volunteering Centre or any other university workplace. You can read more about the fifth year of these annual awards here.