The year 2021 showed the direction Palacký University Olomouc would like to take in the area of sustainability. In the spring, the post of Sustainable Development Coordinator was created, and by the end of the year, UP was included, on the basis of the collected data, in the international UI GreenMetric rankings for the first time. UI GreenMetric evaluates how environmentally-friendly universities and colleges are.
UI GreenMetric World University Rankings is the first international ranking since 2010 that assesses how well universities are developing their infrastructure and education with respect to the environment and sustainability principles. It aims to contribute to the academic debate on sustainability in education and promote a social change that respects the UN's Sustainable Development Goals. Universities ought to play a key role in this change and inspire others.
"The ranking focuses on six criteria: Setting and Infrastructure, Energy and Climate Change, Waste, Water, Transportation, and Education. Each of these criteria consists of 5 to 20 indicators for which we submitted data, including evidence, for example in the form of a photograph, a link to a website, or a description," explained Zuzana Huňková, UP's Sustainable Development Coordinator.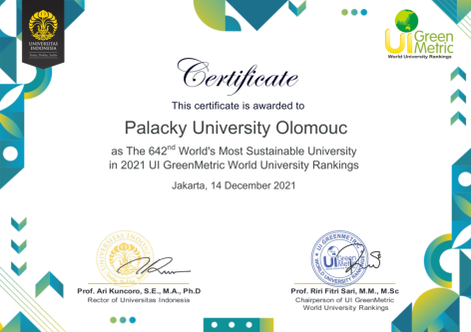 UP has received its best rating in Waste, mainly due to its good management of toxic waste and measures aimed at reducing the amount of used paper and plastics. The score was further improved thanks to the number of green spaces on its campuses, such as the park near the UP Faculty of Science building on the Envelopa campus and the UP Education and Science Centre Park on the Šlechtitelů campus (which also received an honourable mention in the Park of the Year 2021 competition). In other categories, a positive impact was made by UP's various measures aimed at saving energy (energy-saving LED lighting, sensors for window blinds, and automatic control of heating and air conditioning) and promoting sustainable transportation.
Palacký University Olomouc was ranked 642nd among universities from 80 countries last year. "This is the first time we have been ranked. To keep being included in the ranking in the future is a great challenge for our university. The collection of data has also helped us identify areas in which we can improve, which relates not only to building renovations and infrastructure, but also to research and education in sustainability. For example, the Sustainability Strategy currently being approved at UP should help us in this regard," added Huňková.
Overall, universities in the Netherlands, Great Britain, and the USA stand out in environmental friendliness. First place was again occupied by Wageningen University & Research from the Netherlands, followed by the UK's University of Nottingham, and the University of Groningen, the Netherlands, once again.
More information about the ranking, its methodology, and annual results can be found here. For the latest news on sustainability at UP, please visit the Sustainable University website.